Lisbon Annual Weather and Climate
Lisbon offers a mild and temperate climate, with short winters and long hot summers with a maximum temperature of approximately 28º Celsius (84º F). Although temperatures may fall somewhat in the autumn and winter months, sunshine is almost always a constant feature. Temperatures rarely fall to freezing point, even during the coldest months of December and January. Due to its proximity to the sea, mist and drizzly rain can sometimes make Lisbon feel cooler than inland Portugal.

Check the weather forecast for today: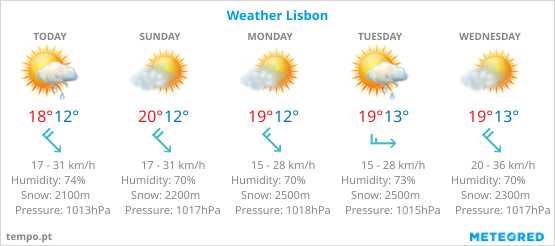 The warm afternoons are favourable for a nice walk by the river or for a well-spent afternoon in one of the many street cafés to be found all over the city. But even rain can be romantic if you're winding in Lisbon's narrow streets; the charms of rain can usually be felt between December and March.